It's hard to believe that Giving Tuesday is here again!! Many, many thanks to all who have donated to the Poor Household of God in the past as we work to support the mission of the Oikos Sisters in the Philippines!!
You may remember that in 2018 we raised money for Giving Tuesday for a Community Center in Oikos Village where the Oikos Sisters live and work. Because of the pandemic and other more crucial needs, this project was put on hold…until now!!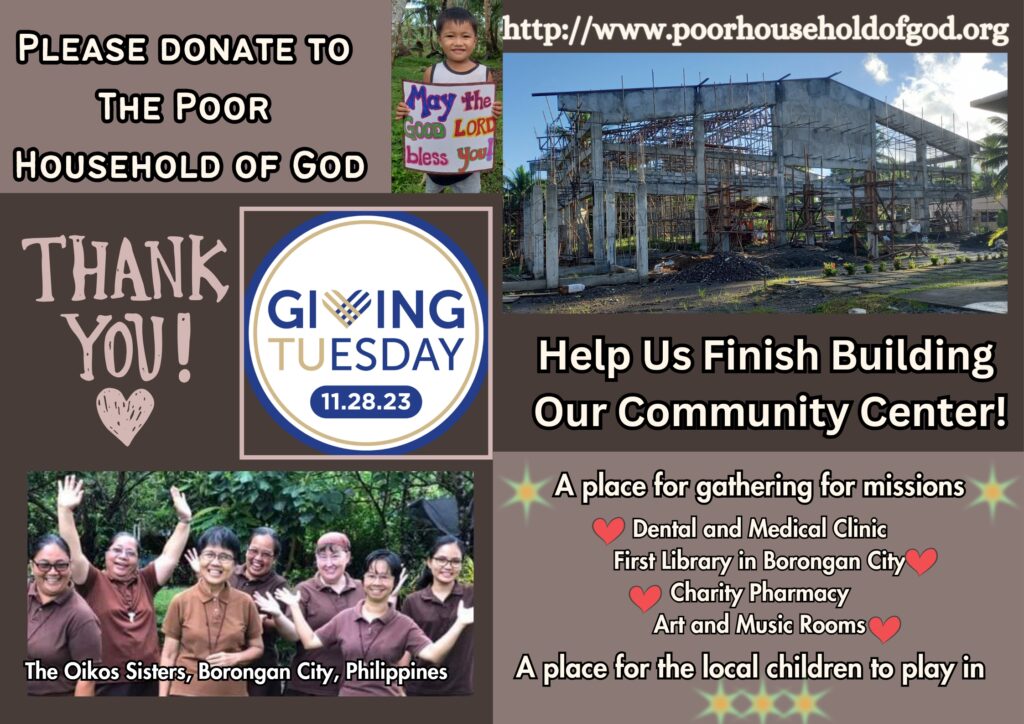 The foundation of the Community Center and frame are almost completed!! The construction crew is working hard to complete this center in record time!!! Unfortunately because of inflation and changes to the structure of the center, more funds are needed to complete it. This will not only be a gymnasium to gather for large missions and to have a place for the children to play, but it will be the HEART OF THE OIKOS MISSION!!!
The Oikos Community Center will house: *** a Medical Clinic for visiting doctors to care for the poor and the Charity Pharmacy of the Oikos Sisters which provides FREE MEDICATION for the poor!! *** a Dental Clinic for Oikos' own Sr. Michelle who is a dentist and provides FREE DENTAL CARE for the poor as well as a center for ORAL HYGIENE EDUCATION which is wildly omitted by most dental missions for the poor. *** a Library…the FIRST PUBLIC LIBRARY IN EASTERN SAMAR!!! *** a Music Room and an Art Room to help build up the talents and abilities of the beneficiaries of the Oikos Sisters, giving the poor CONFIDENCE and ENJOYMENT!
Please help us in this great endeavor to complete this project that was started during Giving Tuesday 2018!!! Be assured of the Oikos Sister's continued prayers for all of you, your families and all of your intentions. THANK YOU for your generosity and care for the poorest of the poor in Eastern Samar, Philippines!!!