In many of the barrios in Eastern Samar, people can only eat once a day because of lack of food and resources and the rigorous demands of working in the rice fields and harvesting their crops.  This has become an even bigger problem since Typhoon Yolanda in 2013 when many lost their livelihoods and could no longer afford food for three meals.  For these reasons, many children in the barrios are malnourished.
Trying to meet the needs of the people, the Oikos Sisters have developed a
feeding program called "Multiplication of Loaves."  In this program, the Sisters often cook lunch for a barrio and serve it to all the children there.  Along with food, the Sisters bring available college students to do action songs and play games with the kids.  And, of course, what meal would be complete without something sweet to finish it off?  So the children also receive candy or cookies at the end of the meal.
Often I have h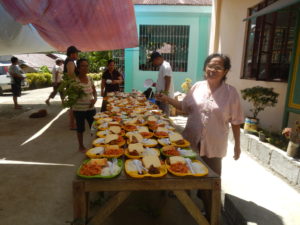 eard Sister Aileen tell me that while serving the food, she feared there would not be enough.  When you are spooning up spaghetti or soup and can see the bottom of the pan while noticing there still is a long line of children waiting for lunch, you can get very upset!  But never have the Oikos Sisters run out of food!!  No matter how low the food got, there was still more for the next child…thanks be to God!!
The Multiplication of Loaves program is run completely by donation.  If you would like to donate to the Oikos Sisters to help continue this miraculous feeding program, please click here:
"Truly I tell you, whatever you did for one of the least of these brothers and sisters of mine, you did for Me." Matt 25:40