Meet the Sisters
The Oikos Sisters are a small religious missionary community in the service of the very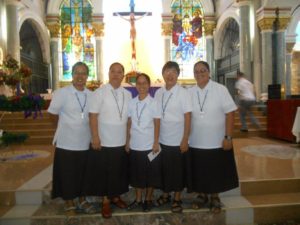 poor, the disadvantaged, and the marginalized in the Diocese of Borongan, province of Eastern Samar, Philippines.  Since May 1998,  they have been caring for and living with abandoned, malnourished children and young women in difficult circumstances. Inspired by the life of St. Francis, they not only serve the poor but live as one with the poor.
The Sisters, and those they care for, live solely on donations for their shelter, food, health care – all of their needs.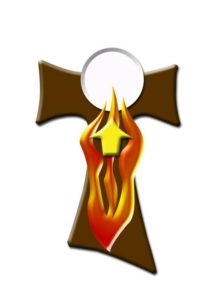 They live as family. They sleep together on straw mats on the floor, wash their clothes in basins and cook their food on open fires. Since 2010, they began reaching out to upland barrios (villages), introducing programs to uplift the quality of life in these underserved areas.  Their lives are not easy ones. But they are committed to doing God's work as they care for the spiritual, emotional and physical needs of whoever is brought to their door.
Led by Sister Minerva Bagas, OPT, the Oikos Sisters are only five in number, but in terms of the work that they do, there might as well be 50 of them!!  Working al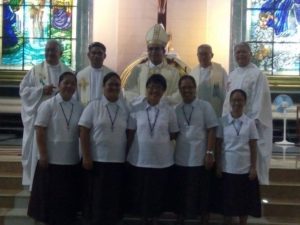 ongside Sister Minerva is Sister Ethel Amidao, Sister Clarissa Abella, Sister Aileen Elpedes, and their newest member, Sister Michelle Ureta.  Each of these courageous women has a college degree and has worked in her  field of study for a while.  However, each in her own way heard the call of the Lord asking her to live completely for Him to help the poor…and they all said yes, giving their lives and their love to God.  Their trust in the Lord and willingness to be guided by the Holy Spirit has enabled them to reach out and touch the world with His love.
Please pray for the Oikos Sisters and all of the amazing donors that enable them to be God's hands and voice in the Philippines.  Thank you!!
If you would like to become a donor, please click here.