There have been many people who have been quite helpful to the work that the Oikos Sisters do in the barrios.  Many thanks to a few programs in particular…
Days For Girls is an organization who provides menstruation kits for girls and women all over the world!  Beginning in 2008, the founder of Days for Girls, Celeste Mergens found that girls in Africa have to stay in their rooms during their menstrual period because they have no pads available to them.  She began a mission to provide reusable pads for girls in an orphanage in Nairobi.   Now, 10 years later, they have volunteers all over the world making these kits for poor women…and they are AWESOME!!  In each kit, there are 7 washable, reusable pads with wings, two pairs of underwear, soap, a wash cloth and a bag to store all of it in.  The fabric is soft but durable…usable for up to 3 years!!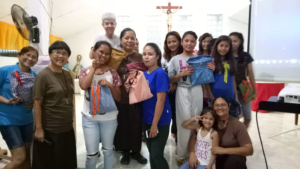 The Oikos Mission graciously received kits lovingly made by volunteers in Chicago, Il.  We gave these kits out to women on our immersion in Camangtang, Can-Avid Eastern Samar, and the young girls and women were so excited to receive them!  Along with the pads, the women were taught about good personal hygiene and how to use the pads.   To find out more about this awesome organization, visit http://www.daysforgirls.org.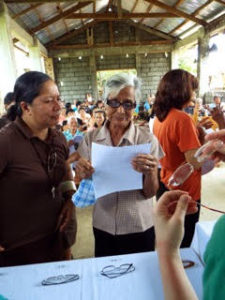 Restoring Vision is a group that provides reading glasses and sunglasses to the poor.    In both of her visits to Borongan, Eastern Samar in November 2015 and Februa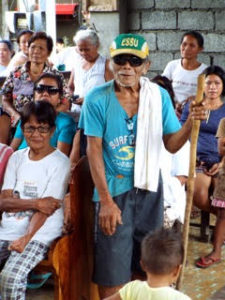 ry 2016, Mary Jane Trinkus brought glasses from Restoring Vision with her.  With the help of the Oikos Sisters as translators, hundreds of people are reading clearly for the first time!  Not only that, but in the sun-drenched environment of the Philippines, sunglasses are imperative for healthy eyes…and the people are so grateful!!To find out more about this amazing program that helps restore vision to the poor, go to http://www.restoringvision.org.
The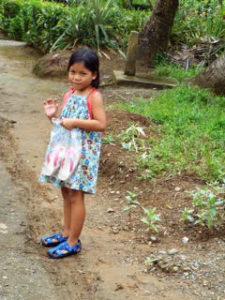 Shoe That Grows is another group that is helping the poor by leaps and bounds!  The Shoe That Grows is an organization that makes shoes that a growing child can   wear for 5 years!!  Any parents out there know how quickly children grow out of shoes, but in the poor barrios of Borongan and many, many others around the world, getting new shoes is no easy task.  Made of leather and snaps, the cute sandal is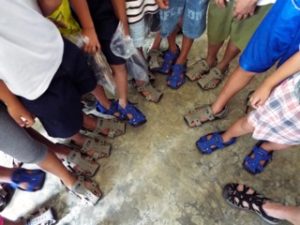 waterproof and durable and is adjustable to fit the children as they grow.  The Sisters and  missioners had a fun time delivering these shoes to a barrio called Sarok…and the children were so happy to receive such an amazing gift!!To find out more about this organization, visit http://www.theshoethatgrows.org.
                                 Thanks for all the smiles we got from the kids!!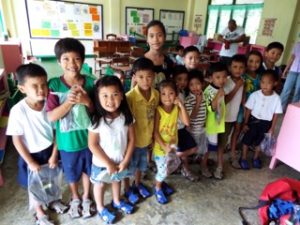 Water With Blessings is a non-profit organization that has partnered with the Sisters for a number of years now. With them, the Oikos Sisters are able to bring clean water to God's thirsty children in many far flung villages. During a training session, villagers are given a simple fil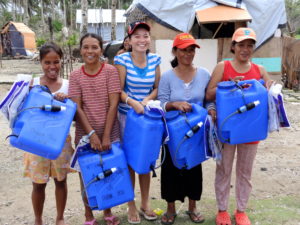 tering system that removes 99.9999% of all biological contaminants from dirty water. Waterborne illness is the number one killer of children under 5. What a true blessing Water With Blessings have been to those the Sisters minister to in the Philippines!You can learn more about Water With Blessings, by visiting their website:  http://www.WaterWithBlessings.org
Clothing God's Children is a Christian ministry that partners with churches in the southern suburbs of the Chicago area. A group of lovely women from St. Mary's Parish in Mokena, IL have partnered with the Oikos Sisters to clothe poverty-stricken children in the barrios. Dresses, pants, cloth diapers, hats, dolls, blankets and cloth bags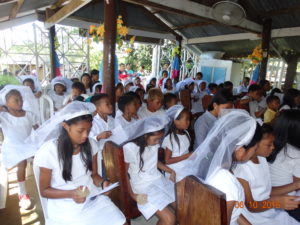 have been sewn and sent. Amazingly, their most recent project is making Communion dresses!
In the villages, when a girl receives her First Communion she wears the nicest dress she owns – this usually her school uniform. But this June, 30 girls received Jesus for the first time wearing beautiful white Communion dresses with veils! Thank you sewing ladies!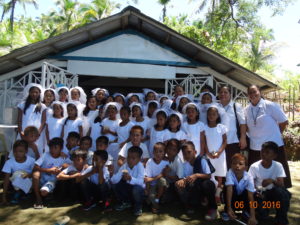 The children were given catechism preparation to receive the sacraments of Reconciliation and First Communion by the Oikos Sisters. A fun party of songs and delicious food followed this blessed event. The girls then dutifully returned the beautiful dresses to the Sisters. These dresses will be hand washed and ironed for many, many other girls as the Sisters continue to spread the word of Christ to those they serve.