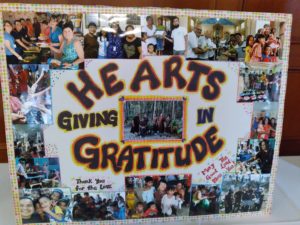 Oh! What a night!!  Many thanks to all those who came out to support the Oikos Sisters and their mission in the Philippines at the FUNdraiser at St. Petronille Parish in Glen Ellyn, IL on August 12th!!  It was a beautiful evening of generosity and love, and we just can't thank your generous hearts enough!!!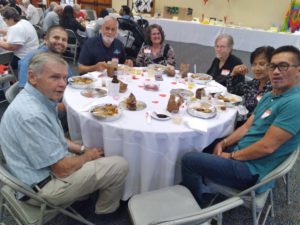 There were over 80 items to bid on, and they were so awesome!!  From tickets to sports games to overnights at resorts, diamond earrings and handcrafted jewelry to prizes for the kids…it was a super fun night!  We enjoyed a delicious Filipino meal with so many yummy desserts.
Sr. Sarah talked about the new happenings in the Oikos Mission.  The greenhouse in Oikos Village is bountifully producing delicious lettuce, but it's so good the workers and Sisters can't keep up with the orders!  The Give Back in Gratitude Livelihood Ministry has helped everyone in Oikos Village to now have a livelihood!!  The "rent-to-own" style livelihood program so far is a success, and there even is a waiting list of hopeful families who want to avail of this ministry.  We couldn't be happier with the progress being made!
As school begins to open up to face-to-face classes for the first time in two and a half years, the scholarship program in Oikos is on fire with new applicants hoping to be considered for educational assistance.  How we wish we could help them all!!!
Emergency Relief has become a big part of the Oikos Mission in the past few years.  Families suffering from typhoon-related damage to their homes and livelihoods can no longer wait for government assistance to help them.  To see our latest venture in helping the poor families of Barangay Ponod, Southern Leyte, check out this video:     (1) Southern Leyte Mission – YouTube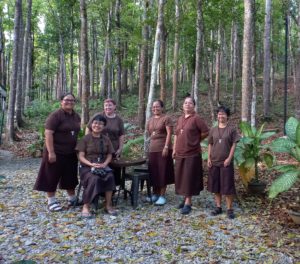 Thank you to all our supporters, donors, prayer warriors and friends who keep us in their minds and hearts!!  We couldn't do what we do without you!!!
To God be the Glory!!!