First of all, we at the Oikos Mission would like to give our most sincere and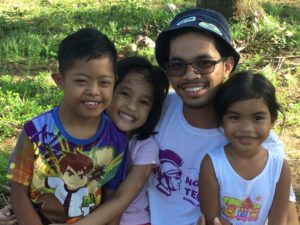 overjoyed THANKS to the whole Poor Household of God community and all who donated in the Fall Matching Campaign…
Not only did we MEET our goal of            $10,000.00….WE EXCEEDED IT!!!!
Thank you, thank you, THANK YOU!  Now the Community Center in the Charity Village can go from a draft on paper to a real-life building that we can use for our ministries and programs for the poor, for safety and even to rent out for income for the Charity Village.  May God bless all who gave and prayed for this endeavor!!  We will be sure to keep you updated on the progress of the Community Center as soon as we begin the construction!
Next, the Philippines has been hit by another devastating typhoon, Typhoon Phanfone,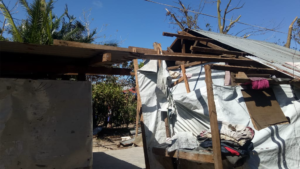 or locally known as Typhoon Ursula, made landfall last Tuesday, December 24th in Salcedo, Eastern Samar at around 4pm.  That is about 2 hours south of our home in Borongan.  We spent our Christmas Eve safely in the home of our Bishop, His Most Reverend Bishop Crispin Varquez, as there was a threat of flooding in our village.  The winds and the rain were extraordinarily strong, but it was even worse at the storms center, south of Borongan.  Many of our scholars come from that area, and most of them have either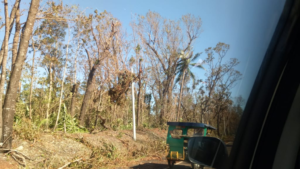 homes that sustained much damage, or were completely taken away by the storm.  Some areas in Eastern Samar are still without power, including our village called Sohutan, although most places around Borongan have had their power restored.  In the strongly effected areas, though, they are projecting 2 to 3 months with no power for those poor people!  As you can see, the lush green banana and coconut trees that grow so abundantly in our area have been devastated once again.
We at the Oikos Mission will be centering our work on those effected areas in the days and months to come.  Already we are planning an immersion for just after the first of the year for one of the most destroyed villages here.  Please pray for our people, for the complete restoration of the lives of the people effected and for the Oikos Mission as we reach out to those most in need.  If you would like to donate to help our mission help those in need, please go to our DONATE page, or click here, for instructions on giving… please be sure to signify your donation for the help of the victims of Typhoon Ursula.
Many, many thanks once again!!  Please know that you are all in our prayers, and that we especially pray now for a blessed and prosperous New Year for all of you!!