All of the Oikos Sisters of the Oikos Ptochos Tou Theou Mission (The Poor Household of God) and our whole community in the Philippines are sending our most heartfelt gratitude and appreciation to the Diocese of Joliet in Illinois, USA for their open, welcoming hearts and overwhelming generosity to Sister Clarissa during her 2019 Mission Appeal!!!  Sister Clarissa spoke at four parishes this summer:  St. Francis Xavier, Joliet, IL …. St. Peter Damien, Bartlett, IL …..  Immaculate Conception, Morris, IL …. and St.  Isidore Parish, Bloomingdale, IL.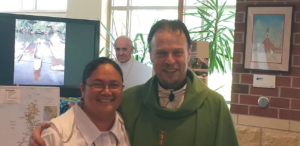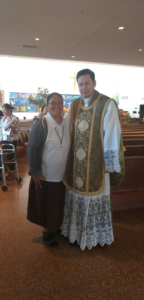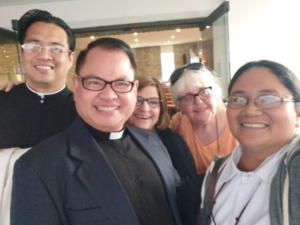 Sister Clarissa is pictured above with Fr. Ed from Immaculate Conception Parish, next with Fr. Juan Jose at St. Isidaore Parish and with Fr. Mario at St. Walter's Parish.
We are so very grateful for all the love and care we received from all of the parishes, from all of the people we met in and around the Diocese of Joliet and from the associates of the Poor Household of God.  THANK YOU for being partners with us in our mission helping the poorest of the poor in Eastern Samar in the Philippines.  We could never be able to do all the work we do without the generosity of all of our benefactors.  THANK YOU  for hearing the gentle whispers of the Holy Spirit speaking through Sr. Clarissa.  Please be assured of our everlasting gratitude and our daily prayers for you, your intentions and your families.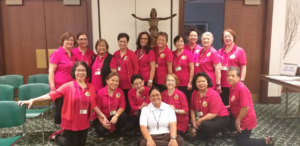 Sister Clarissa with the Good Shepherd prayer group