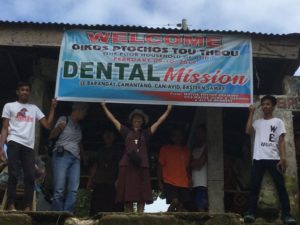 A barrio immersion is when the Oikos Sisters totally and completely immerse themselves in a barrio, usually a new barrio they have never been to that, because of its distance to the city or difficulty in getting there, does not receive a lot of help from NGO's or the Filipino government.  I have heard it said many times during various immersions I have been on, "We thought the world forgot about us."  And indeed, many people feel that way.  It's sad to hear, but also it feels so good to bring the love of God and His many blessings to these people, to help them to feel loved, cared for, wanted and special…for indeed they are!!
Camantang is about a two hour drive north from the city of Borongan where we live, and about a two hour boat ride.  When I say we bring God's blessings with us, I totally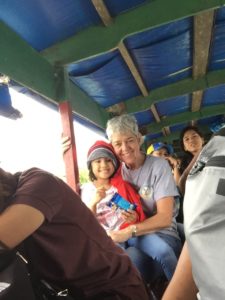 mean it!!  We bring clothes for men, women, teenagers and children, we bring food for the entire weekend for the entire village including food for meals, snacks, drinks, plates*, silverwear*, cups* and cooking pans and utensils, we bring a movie projector and movies to watch at night, we bring the blessings that people send us…rosaries, baby blankets, washable and reusable menstrual pads, reading glasses, sunglasses, water filters, food packs of rice, coffee, sugar, canned meat and noodles for each family, deodorant, school supplies for children and for the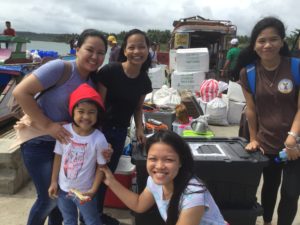 teachers, birthing kits, and so many more things.  Imagine loading cars full of all of these things, then unloading at the dock, loading up again on the boat and unloading at the destination!!  It's not easy!!  We had to take a second boat to Camantang because all of the volunteers we brought and all of the food and things we brought were making the boat sink!!!
*By the way… we do not bring plastic/paper plates and utensils, we bring the real deal…hundreds of them to serve everyone in the village.  The Oikos Sisters are committed to the love and care of the people we serve, but like our patron, St. Francis of Assisi, we also love and care for our earth.  It's very, very heavy to carry, but it makes our hearts and minds feel AWESOME to recognize the importance of taking care of our environment!!
We also brought our traveling dental clinic with us to Camantang, including dental chairs, too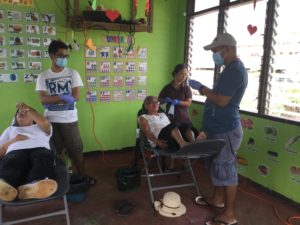 ls and eauipment, medicine and our very own dentist, Sr. Michelle.  She's about the lightest thing we bring!!  Unfortunately, because of time restraints in our schedule, we were only able to stay in Camantang for two days, where usually our barrio immersions are three days and two nights.  But we sure did accomplish a whole lot in those jam-packed two days!!  Our dental clinic saw 75 patients in two days!!! It was the first time for us to give the reusable menstrual pads, and I can't even tell you how excited those girls and women were to receive them.  They were given by Days for Girls, http://www.daysforgirls.org.  We gave about 50 of them, and we hope to receive more to give in othe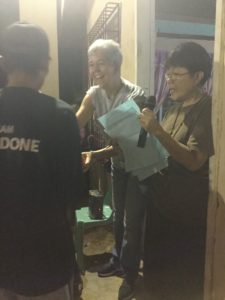 r places.  What an amazing invention!!
The tireless leader of The Poor Household of God, Mary Jane Trinkus, joined us for this immersion.  She helped to give out our many blessings, serve food, and teach catechesis to the kids!!  We were so blessed to have her with us…she makes it all more fun!
Unfortunately, we were unable to see all of the dental patients who wanted to be seen in Camantag, so we will be returning there after the elections in May.  When the Oikos Sisters make a promise, they keep it!  We are greatly looking forward to our return to Camantang, and then, onto other barrios in need.  This is one part of the Oikos Mission that is truly a great joy for everyone involved…the people we meet are so overjoyed to have the help and care we give, and the Oikos Sisters and all our hard-working volunteers find so much fun and joy in going on immersion.  It is a win-win all around.  We continually praise and thank God for being so providential to us, for supplying us with all the blessings we are so happy to share with others, and for giving us the energy, talent and generous spirit to do His work!!  Thank you, Lord!!!