One of the many ministries that the Oikos Sisters facilitate in Eastern Samar is the Livelihood Program.  There are two that have been introduced to communities all throughout our region:  FAITH (Food Always In The Home), and Piglet Recycling and Fattening.  Just a few weeks ago, we had the closing ceremony for FAITH and the launching of the piggy project in a barrio called Surok.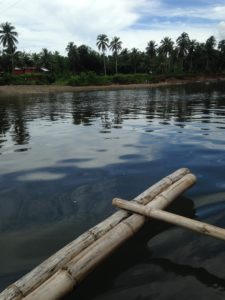 Surok is a barrio, or small village, located near Borongan in Eastern Samar.  To get there, you have to take a long, narrow boat across a river.  At one time there was a bridge connecting the land, but Typhoon Ruby washed the bridge away in 2014.  The boats are usually guided by young boys who transport people to and fro all day long for mere pesos a trip.  It is hard work as up to 10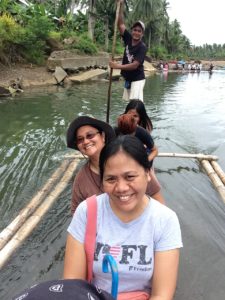 people can fit in a boat and all the boys have to "drive" the boat is a long stick.  There is no market in Surok, only little mini-shops in people's homes called Sari-sari stores.  There is an elementary school but no high school.  The people there grow rice and root crops for their livelihood.  But with the changing weather here in Eastern Samar bringing more rain in the dry season, it is a great challenge to produce crops worthy of sale and consumption.
Last year the Oikos Sisters launched the FAITH program in Surok.  They taught the people how to grow fruits and vegetables on risers in biodegradable plastic bags, taught them how to grow their food organically, even how to make compost.  The people were given seeds and were monitored by the Oikos Livelihood team throughout the program.  It is a great way to provide food for their table and some to sell in their community or even in the market in Borongan.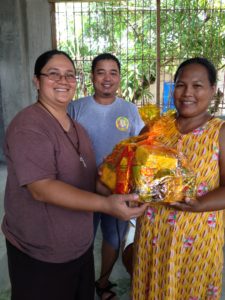 This past April, Oikos held the closing ceremony of the FAITH program in Surok.  The beneficiaries are rewarded quarterly for their hard work and in the last ceremony, each participant is given grocery items and rice, and those who produce the most vegetables are given sacks of rice.  It was a great celebration!!
On May 16, 2018, the Oikos Sisters launched the Piglet Recycling and Fattening program in Surok.  We had a seminar given by Tomas Palada,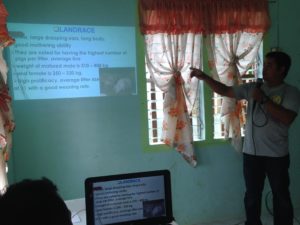 graduate of animal husbandry and agriculture and Oikos co-worker who runs the Oikos Pig Farm.  Tomas taught the beneficiaries how to raise piglets for breeding or fattening and the participants got to choose which program they wanted to partake in.  The fattening program provides a quick return as it takes just about three months to fatten a pig for butchering, and the piglet recycling offers more of a long-term sustainability as participants can continue to grow and raise piglets as long as they keep breeding them.  Of course, the recycling is more work, but a good investment of time!  Once again, the beneficiaries will be monitored throughout this program and Tomas will visit Surok regularly to see to sick pigs, help in birthing the piglets or any other issues that may develop.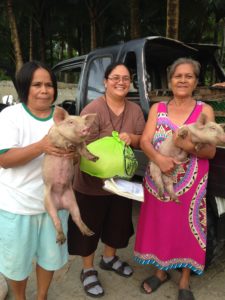 We also delivered some of the piggies to their beneficiaries that same day.  What a joy it was for the people and for us…as for the piggies…well, they were screeching pretty loudly!  I know they will be well cared for in their new homes!!
There are plans to open the FAITH program in two more communities this year, and pending the success of FAITH, the piggy project will soon follow.  These programs not only provide livelihoods for the people, they also fill them with hope…hope that they will be able to provide for their families and send their children to school, hope that they will someday be able to build a home that is safe and secure and will be able to eat three times a day, hope that they will be able to create a business they can pass on to their children and end the cycle of poverty in their community.  There is excitement and joy in the faces of our beneficiaries that comes from the knowledge that they have not been forgotten by the world and that someone cares for them.
If you would like to be a part of bringing hope and joy to the poor people of Eastern Samar through the work of the Oikos Sisters, we would love to partner with you!!  You can make a donation here and know that 100% of your donation will go right to the people you want to help!!  Thank you for your generosity!!  Please keep our mission, our Sisters and the poor we help in your prayers!!  Thank you so much!!  God bless you!!