The Oikos Sisters are so happy and excited about the new happenings in the Charity Village!!  This has been a dream of the Oikos Sisters for many, many yea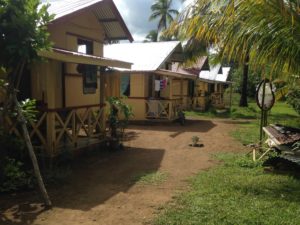 rs now.  In the year 2015, land was donated to the Sisters from a Filipino family living in Florida, 1.5 hectors of land in a non-flood prone area.  Since that time, construction and building has been going on.  It has been a slow process because of the need for funding and the weather…in the rainy season, it is extremely difficult to be building.  But now, things are in a major upswing!!
Not only do we have all 25 of the planned homes fully funded, and 6 of them already built with plans and materials to build 4 more this summer, but now THE ROAD GOING INTO THE CHARITY VILLAGE IS BEING BUILT!!!  This is a major development as it will make things move much more quickly and easily.  Here are some of the pictures we took: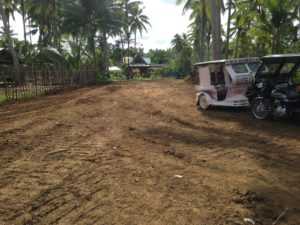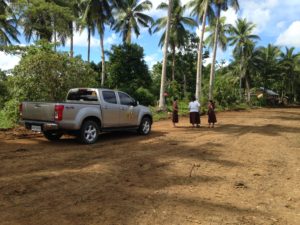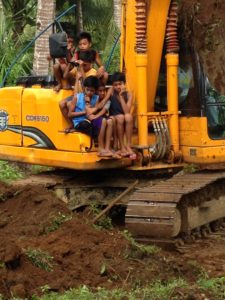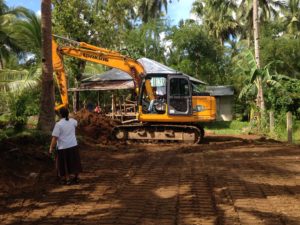 These pictures show the back hoe being used to clear the path of grass and shrubs.  (and the kids along for the ride are too cute!)  The next step will be compression and topping the road with gravel.
Other projects we are hoping to get done before the year is out include the road inside the village, the community/evacuation center, the chapel and of course more homes.  People are already living there and, although the construction is a bit noisy, they are all happy with the progress as well.  For years, the Oikos Sisters have had this dream, they have planned and persevered.  We have no doubt that the Sisters can accomplish all that they set out to do with God's guidance and protection, in His time.
Thank you to all of the benefactors and donors to the Charity Village!  You are always in our prayers and will always be a part of our mission.  God bless you!!
If you want to be a part of this amazing project of the Oikos Sisters, you can donate here!!  Salamat Po!!!  Thank you!!!