Graduations are always exciting times, even here in Oikos.  All of the hard work and time sacrificed to studies has paid off and has culminated to a jubilant walk across the stage signifying crossing from one side of life to another.  The scholars in Oikos have worked so very hard and we are all so very proud of all of them!!!  These are the students who are sponsored by the Poor Household of God and who board within the Oikos Mission Houses, called Oikos Angels, who graduated college this year:
These students worked so hard to accomplish their goals.  Staying up late, missing Oikos Family events to do school work and all the while, trusting in God to help them succeed.
Without the help and prayers of sponsors through the Poor Household of God throughout the world, this day might never have come for these students.  Everyday these students gave thanks to their sponsors and remembered them in their prayers.  Many, many thanks to those who helped to make this day possible for these high achievers!!!
There were three elementary school graduates this year as well:
Angel, grade 6 graduate who will go to high school here in Borongan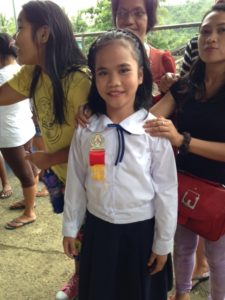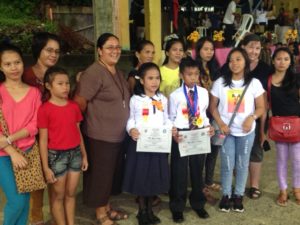 Jake, grade 6 graduate who will go to high school in Cebu in a boarding school run by the Sisters of Mary: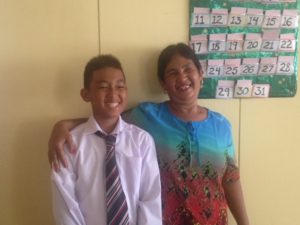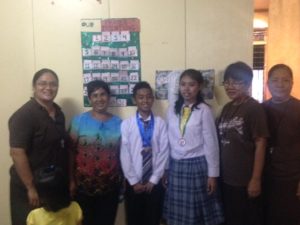 And Lhans, who will attend the same school as Jake in Cebu: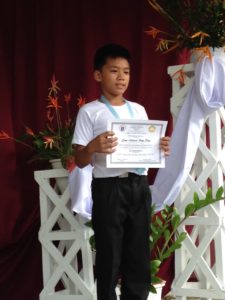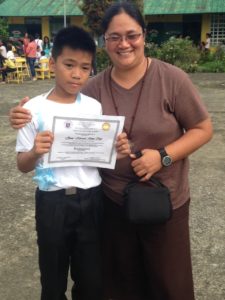 Congratulations to all of the Oikos graduates!!!!
We are all so proud of our graduates!  Truly, all of them have worked so hard to achieve this great honor.  And all of them, all of the Oikos Family, are so grateful to The Poor Household of God who makes it possible for these children not only to go to school, but to be able to have money for their fare to and from school, money for their school projects and for food each day.
 And not only that, each one of these students, and in fact ALL of the students sponsored by The Poor Household of God, each one of them knows that this day, their graduation day, might not be possible if it weren't for the generosity and love of people all around the world who sponsor them.  The thoughtfulness and love of these sponsors gives these children wings to succeed in school and in life.  If you are an Oikos Sponsor, THANK YOU!!!
 If you would like to become an Oikos Sponsor and provide the opportunity for a poor child in the Philippines to break out of  the bonds of poverty, please click here.
 We give praise and thanks to God for His great providence and love.